We are filming and fundraising and we would love for you to come along with us. We want to give you the option to help out in ways that work best for you.
You can make a tax deductible donation to 50 Shades of Silence. We have teamed up with Fractured Atlas, to serve as our fiscal sponsor, this allows you to securely make a tax deductible donation. Fractured Atlas empowers artists, arts organizations, and other cultural sector stakeholders by eliminating practical barriers to artistic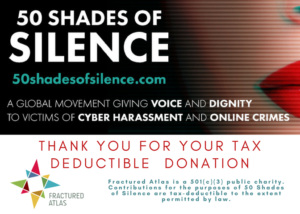 expression, so as to foster a more agile and resilient cultural ecosystem.
Where does the money go?
Funds raised for this 50 Shades of Silence multi media campaign go towards all aspects of research, pre production, equipment, crew, travel, post production for the documentary. In addition your generous dollars will help to support all aspects of book publishing, website maintenance, and social media outreach.  Your financial support will also assist us In-school education, public awareness, and other resources and materials needed to assist cyberharassment and cyberbullying prevention education.
It's no doubt, this is a huge undertaking and it will take countless hours of pre and post-production to bring this documentary to life. We are committed. Our projected budget for the 50 Shades of Silence documentary is $350,000.00 it's a bare minimum that it will cost for us to make this film. Every single dollar that we receive from you will increase the value and the quality of this documentary and help us tell our story with more clarity, find solutions and provide support and direction.
Click here to donate to 50 Shades of Silence through Fractured Atlas.
DONATE ONLINE THROUGH FRACTURED ATLAS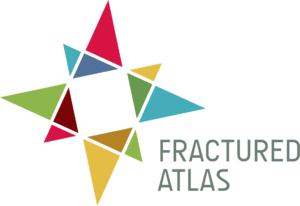 You can make a donation amount of your choice or choose one of the giving levels that we have suggested. Every dollar counts, so we are thrilled and excited that you decided to support our documentary and the advocacy work of 50 Shades of Silence. 
PREFER TO MAIL A CHECK?
If you would prefer to mail a check please make it payable to FRACTURED ATLAS. Please click the button below to print our donation card and mail to:
Darieth Chisolm
50 Shades of Silence LLC
P.O. Box 513
South Park, Pa 15129
BE A PART OF THE TEAM
We want you to feel apart of something that is very big and very special. Your financial contribution is very important and will help us complete the film and bring voice and dignity to victims. We want you to go along on the journey with us.
Donors will get special behind the scene footage of the documentary
Early Bird viewing specials
Tickets to events and fundraisers
Exclusive promotion and collaboration
Extra material not included in the book or documentary
Acknowledgement in the finished product
Story collaboration
Swag: T-shirts, mouse pads, computer paraphernalia, etc.
Leather bound exclusive commemorative journal
Monthly guided meditation
and so much more.
When you donate choose your pledge level and unlock the benefits of being a special part of the team.
$25 Crew Member • $50 Production Assistant • $100 Field Producer • $250 Associate Producer
$500 Producer • $1000 Executive Producer • $2500 Film Partner • $5000 Corporate Sponsor
Indiegogo CROWDFUND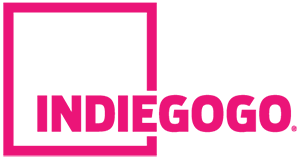 Once we get enough funds raised to shoot a trailer for the documentary we will kick off an Indiegogo Crowd Fundraiser.
Your early donations and pledges will set the stage for so much more to come.